Schools must function as anchors in the community – institutions which ground young people in who they are and to whom they are connected. Great schools cultivate confidence, identity, and community.
The Anchor School Co-Design Team
Jasmine (Jaz) is a social inclusion and design specialist with a focus on gender equity, meaningful youth engagement, and innovation in the water, sanitation, and hygiene (WASH) and global health sectors. She is trained in product design and public health and is passionate about social justice and human rights. She has led iterative toilet innovation pilots and research across Sub-Saharan Africa and in resettled refugee communities both in the US and abroad with a design thinking lens as the founder of Wish for WASH, a social impact organization that seeks to bring innovation to sanitation. Jasmine is a Health Communications Specialist serving on the COVID-19 Response at the CDC, Toilet Accelerator Manager at the Toilet Board Coalition, Technical Advisor for gender equity startup Equilo, a Board Member for Planet Indonesia in order to help lead their WASH and gender strategies, and the Equity and Inclusion Lead for the Atlanta Global Shapers Hub. Beyond work, she loves service learning, cross cultural immersion, community engagement, fitness adventures, and travel photography. Jasmine identifies as a social impact designer who seeks to utilize design thinking, evidence-based research, and business acumen to build a more inclusive world. (jasminekburton.com)
Brittany Collins is a trusted, strategic advisor and equitable education advocate with over 10 years of experience in urban public education, community development, and non-profit sector work. She has worked as an elementary school teacher, strategy consultant, and non-profit leader.
She currently serves as the Founding Director of PAACT: Promising All Atlanta Children Thrive, a citywide alliance focused on improving outcomes for children ages 0-to-5 years old who grow up in Atlanta. She's responsible for building strong backbone functions for PAACT including developing governance structures, strengthening stakeholder partnerships, building sustainable funding streams, evaluating social impact, and building public will.
Prior to joining GEEARS, she served as the Managing Director of Program for OneGoal Metro Atlanta. In that role, she was chiefly responsible for setting, defining, and managing the overall direction of the OneGoal program in Atlanta, ensuring efficiency and efficacy in delivery of the model.
Before joining OneGoal, Brittany served as a Community Development Advisor at Purpose Built Communities, a non-profit, community development consulting firm that works with local leaders to implement a holistic approach to revitalizing distressed neighborhoods. She managed approximately 18 start-up backbone organizations seeking to replicate and implement a national model. She specifically supported the development and identification of resources to deploy targeted housing, education, and community wellness intervention strategies to improve neighborhood health and life outcomes in over 18 cities; and developed tools to formalize public-private partnerships with a focus on scaling high quality early learning programs. Her passion and content matter expertise in early childhood education propelled her to specialize in leading the planning and execution of early learning strategic partnership with clients including traditional districts, charter schools, early learning providers, and higher education partners. To date, forming those partnerships are impacting students in over four urban school districts and various entities offering holistic family centered programmatic supports. The most exciting component of her role was guiding diverse groups to translate their theory of change into an executable plan with a unified goal.
Brittany's love for Atlanta was ignited as a student at Spelman College, where she graduated with a B.A. in Psychology. She also earned a Master of Early Childhood Education with honors from Georgia State University. Driving her work is the inflexible belief and obsessive commitment, that all students, regardless of their socioeconomic background, deserve access to equitable systems that intentionally remove barriers to success. She resides in Atlanta with her husband and three children and enjoys traveling abroad and reading the latest mystery novels.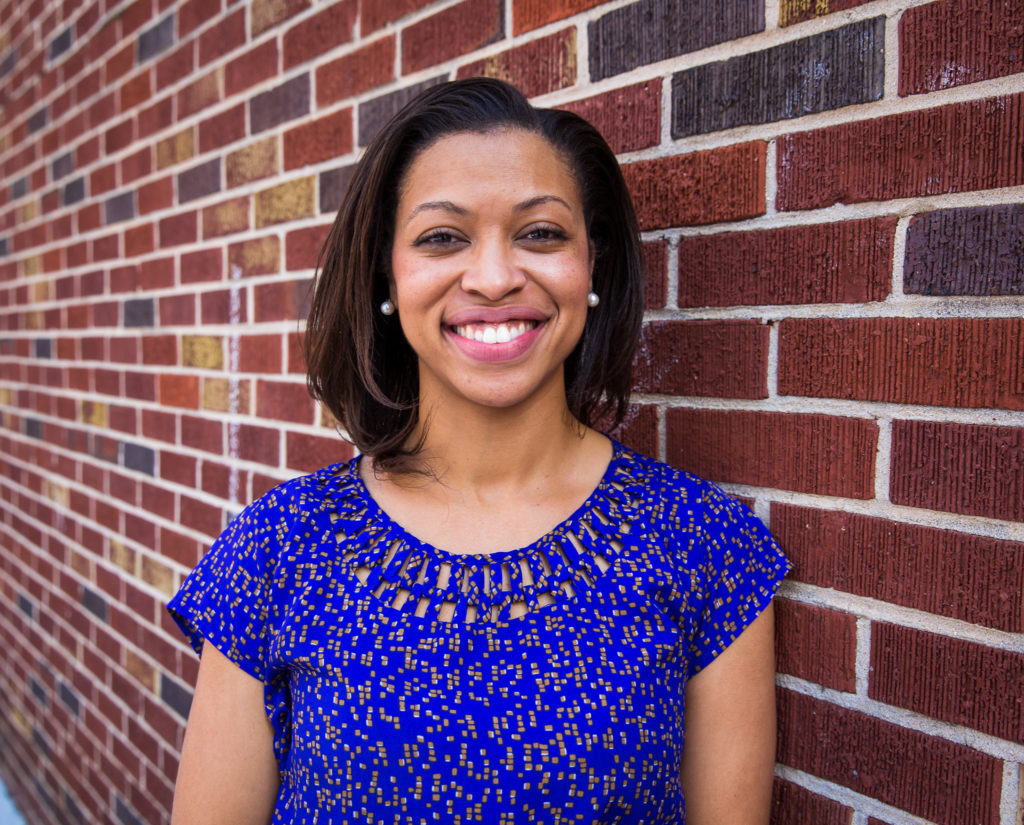 Sarah Davis has ten years of experience as an educator and education advocate that reflect her passion for racial justice and her effectiveness as an educator and leader in adult development. Sarah earned a B.S. in Criminology, Law, and Society from George Mason University and an M.Ed. in Education Policy and Leadership from American University. Sarah began her career in education as a Teach For America (TFA) corps member in the New York Region. Sarah spent four years teaching and leading at Achievement First Crown Heights Middle School in Brooklyn, NY before relocating with her family to Atlanta, GA.
Sarah currently serves as a part-time Fellowship Manager for redefinED in partnership with The New Georgia Project's Parent & Caregiver Fellowship and a part-time Senior Manager with The New Teacher Project (TNTP). Sarah also served as a Policy Advisor Fellow with Leadership for Educational Equity (LEE). In addition, Sarah was also a founding Middle Academy instructor and Community Engagement and Advocacy Coordinator at Resurgence Hall Charter School, a K-8 public charter school in East Point, GA.
When she is not teaching or advocating, Sarah enjoys reading, binge watching TV shows and movies, and spending time with her husband and daughter.
Kim Dukes is the founder and Executive Director of Atlanta Thrive, a parent group that specializes in building parent movements and whose mission is to disrupt the inequities in education. Currently she is leading her team to help address the learning loss in Atlanta Public Schools due to COVID-19.
Her most important role is being a mom of 10 amazing children, along with a friend of families, and a coach to parents. When she's not with her family or building movements, she can be found enjoying some good self-care.
Cortney Duritsa Lockhart learned early on in her career that she has a passion for educational equity for all students and has worked for the past decade towards achieving that goal. In her current role as Senior Director of Program for OneGoal Metro Atlanta, Cortney supports the implementation of a three-year post-secondary access program across several high schools in the Metro Atlanta area.
In her past roles, she served as a Teach For America (TFA) corps member in 2011, a high school and middle school math teacher, a Colorado Department of Education School Turnaround Fellow, and an assistant principal in Denver Public Schools. Cortney has a bachelor's degree in Political Science from the University of Denver, a Master of Arts degree in Curriculum and Instruction from the University of Colorado, and a Master of Arts degree in Educational Leadership and Policy Studies from the University of Denver.
A recent transplant to Atlanta, she enjoys paddle boarding with her husband, mushroom hunting, and pushing the boundaries of her cooking skills.
Katherine (Kate) Dzubinski's passion for language access comes from a lifetime of living cross-culturally and cross-linguistically. Kate grew up speaking English, German, Spanish, and Catalan and chose to focus her BA from Emory University in Linguistics and Psychology because she wanted to know "how people fit so many languages in their brain." Kate's awareness and affinity for social justice work grew during that time, and in the years after, through many relationships in her work life as well as her personal life with people who have historically been and continue to be harmed by oppressive social systems.
Presently, Kate is nationally certified as a medical interpreter through both the NBCMI and CCHI. She has worked as a hospital staff interpreter since 2015, and since 2016 she has also been an interpreter trainer and curriculum developer with ALTA Language Services. Kate is also one of the co-founders of ALAS, an organization dedicated to addressing linguistic injustices that speakers of Mayan and Aztec languages of Latin America experience in the healthcare setting. As part of The Anchor School's co-design team, Kate hopes to help the school community maintain awareness of and develop a plan for linguistic equity.
In her free time, she enjoys rock climbing, going on walks with friends and her dog Solomon, and trying out new and creative things to cook, learn, and grow in her garden.
Raymond Edwards, Jr. has been an educator in the Metro Atlanta area for over 13 years. He began his career in 2007 as a summer teaching fellow with Achievement First Endeavor Charter School in Brooklyn, NY. From 2008-2010, he served as an elementary school teacher for an independent Christian school on the westside of Atlanta. Over the next eight years, he taught in both charter and public schools in the Atlanta Public Schools and Dekalb County Schools districts. He transitioned to becoming a director of curriculum and instruction at a Fulton County charter school in 2018 and has been serving as middle school dean since 2019.
Raymond graduated with a B.A. in Sociology from Morehouse College in 2008. While teaching in 2011, he pursued a Master of Arts in Teaching (MAT) from the University of Southern California. He is currently completing an Ed.D. in Education Leadership from Vanderbilt University in Nashville, TN. He remains passionate about seeing high quality schools in every neighborhood across the county. With that conviction, he is excited to be a member of the co-design team of The Anchor School.
Amara Lynch is a coach, consultant, and facilitator with expertise in the fields of education, human development, and diversity, equity, and inclusion.
She currently works with a variety of schools, organizations, community groups, and individuals to build new capabilities related to collaboration, inclusion, and leadership.
Previously, Amara was a third and fourth grade Spanish/English bilingual teacher for eight years. She also designed curriculum for both LearnZillion and Achievement First's Greenfield Schools and has experience in project management and education strategy consulting. Amara holds a bachelor's degree in International Relations from Tufts University and a master's degree in Education with International Baccalaureate certification from Bethel University.
Amara shares a home in Atlanta with four generations of her family: her partner, two sons, mother-in-law, and grandmother-in-law.
Dr. Ingrid Pinzon, MD graduated from Medicine in 1998 in Bogota, Colombia and practiced medicine there until 2006. She moved to the United States in 2006 and graduated from Internal Medicine in 2014 at Morehouse School of Medicine.
She started working for Emory Saint Joseph Hospital as a hospitalist in 2014. She is currently the Medical Director of Care Coordination and Clinical Documentation Improvement at Emory Johns Creek Hospital.
Dr. Pinzon also spends her time working with the Latinx community in Atlanta – including education about improvements in communication and COVID-19 prevention.
Dr. Josh Pinto Taylor is an educator with over a decade of experience in a variety of school settings and educational organizations. He has experience teaching, leading, mentoring, and coaching towards transformational academic outcomes for students. He has been a finalist or recipient for numerous teaching awards – including recognition as the teacher of the year and recognition for his commitment & service to young people. He has completed fellowships in teaching, community health, and school leadership. His teaching career began in Atlanta – when he was teaching high school through Teach For America. He helped found and sustain high performing schools in Chicago, IL and New Haven, CT.
Dr. Pinto Taylor earned a bachelor's degree from Georgia Tech and a master's from the University of Illinois–Chicago; with concentrations in city planning and community development. Dr. Pinto Taylor also earned a Doctorate in Education, with a concentration in entrepreneurial leadership, from Johns Hopkins University. He was a Georgia Tech CEISMC STEP Fellow, Chicago Albert Schweitzer Fellow, and Atlanta BES Fellow.
He lives in Atlanta with his wife, Emily, and their children, Ezekiel and Trinity.
We are building our founding board. Interested in joining us?